"Imagine Currituck"
New Land Use Plan
Currituck County has started the process of updating its Land Use Plan.
What is the Land Use Plan?
The land use plan is an assessment of what our community is today and a long range outlook of what we would like to be in the future. It is an adopted pollicy document which the Commissioners, staff and citizens use as a guide for making decisions about the physical growth and development of the County.
Why Update?
Communities evolve over time as their populations change. The current Plan was adopted in 2006 and Currituck County has experienced a growth rate greater than 10% since 2006.
How Will The Plan Be Updated?
A 13 member Steering Committee , representing different geographies of the County, has been appointed to undertake this process. They will look at different trends and issues impacting the County and garner input from citizens in their local communities. A consultant team from Destination By Design will help the Steering Committee and staff in this process.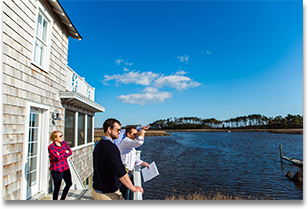 Public input and participation is a large part of this Plan. Electronic surveys and input will begin this summer and community meetings will be held throughout the County this fall. Please visit often using CurrituckLandUsePlan.com for information about the Plan's schedule, meeting presentations, meeting notes and public input opportunities.
Land Use Plans Citizens Survey
The county will conduct two surveys to get citizens input on the new Land Use Plan. The first "Imagine Currituck" survey was a great success with over 1,700 citizens responding.
The survey ask questions such as:
How long have you lived in Currituck County;
What should be the priorities for county government regarding economic development;
How should the County prioritize its efforts to provide quality parks and recreation?
Review the survey results for a complete break down of the survey questions and answers.