Re-Entry Permits
Resident Re-Entry
Following an evacuation, Currituck County will facilitate re-entry as the impacted areas are deemed safe. Currituck County Solid Waste Decals are designated re-entry permits for Currituck Outer Banks residents and property owners.
Two (2) decals are mailed to county and non-resident property owners every 2 years accompanied with the tax bill; current permits are valid until December 31, 2022. If you would like to acquire additional decals, please visit the Public Works decal information site.
If you have misplaced your permit, proof of residency or ownership with a Corolla or Carova address will be required to allow you access to your property.  Examples of acceptable documentation:
Driver's license
Tax bill current
Utility bill
Business Re-Entry Permits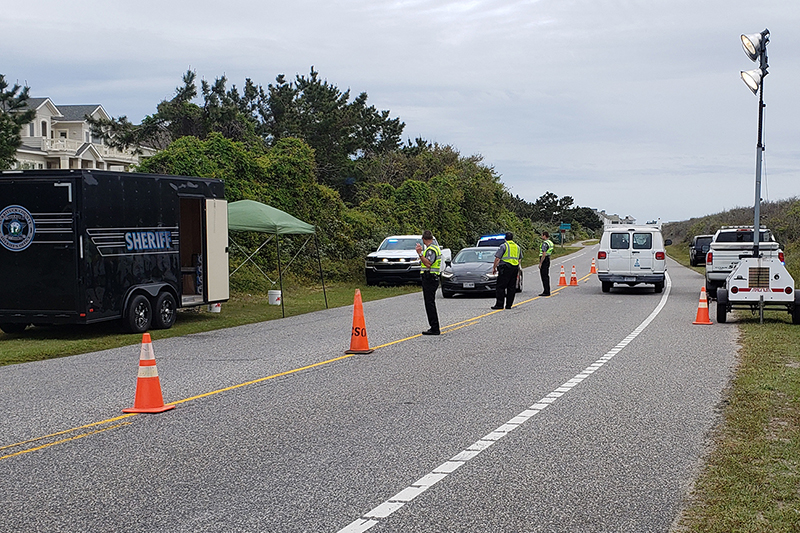 If your business falls under either Priority 1 or 2, you can take proactive in obtaining re-entry passes for you and your employees prior to a storm. This will allow you timely access back into the county to continue your essential business functions and operations. Each business owner or manager is strongly encouraged to acquire needed permits prior to hurricane season. If there is an impending event, we cannot guarantee timely delivery of permits.
If your business is physically located in Corolla or your business is transient in Corolla or Carova Beach, you will need to obtain re-entry permits for your employees. To apply for a Priority I or II permit(s), please fill out our online application.
All non-critical businesses fall into Category 3 and do not need a permit as general traffic flow will be allowed at that point.
If you have a question as to where your business falls within one of these priorities, please contact Emergency Management staff at 252-232-2115 or [email protected].
Re-Entry Permits
Essential Personnel

County Public Safety Agencies
Utilities/Infrastructure teams
County/State Damage Assessment Teams
Power/Energy Companies
Disaster Relief Agencies
Designated Hotel Employees

Residents, Property Owners & Critical Businesses 

Pharmacy
Food Service
Grocery Stores
Financial/Banks
Gas Stations
Insurance
Property Management
Debris Removal
Supply Chain & Building Suppliers Distributors
Contractors
Trades (electrical, plumbing, etc.)

Visitors & General Public
Evacuation Re-Entry Categories

Priority I
Essential Personnel

Priority II
Residents
Property Owners
&
Critical Businesses

Priority III
Visitors
&
General Public