Volunteers Needed
Home Delivered Meals
Please consider volunteering a little time and a lot of love by volunteering to be a "Currituck" Home Delivered meal volunteer.
Currituck Senior Nutrition will resume to 5 days a week (Monday-Friday) starting Wednesday, June 1, 2022.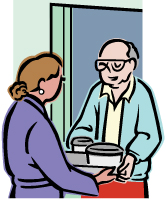 With a significant loss in volunteers due to the impacts of COVID over the last 2 years, we are left with a HUGE hole that we need your help to fill.  Volunteers are crucial to the success of the Home Delivered meals program and we cannot do it without YOU!
You can volunteer as little or as much as your want.  Don't want to commit to a certain day and time?  No problem – be an alternate and volunteer when it's the right time for you.  The average time it takes to deliver a meal is 1 hour, unless you become attached…then it may take a little longer!
Please contact Currituck Senior Services at 252-232-3505 or sign-up to learn more.
Thank you in advance for any support you would like to give.