Please consider volunteering a little of your time and a lot of love by volunteering to be a "Currituck" Home Delivered meal volunteer.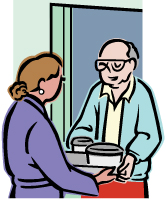 With a significant loss in volunteers due to the impacts of COVID over the last 2 years, we are left with a HUGE hole that we need your help to fill.  Volunteers are crucial to the success of the Home Delivered meals program and we cannot do it without YOU!
You can volunteer as little or as much as your want.  Don't want to commit to a certain day and time?  No problem – be an alternate and volunteer when it's the right time for you.  The average time it takes to deliver a meal is 1 hour, unless you become attached…then it may take a little longer!
Please contact Currituck Senior Services at 252-232-3505 or sign-up to learn more.
Volunteer Opportunities
Senior Centers have many different opportunities to help give back to the seniors in our community.
Opportunities include:
Home Delivered Meals
Food Preparation/Serving Lunch
Clean-up
Calling Bingo
Walking Paws (partnership with the Currituck County Animal Shelter)
Senior Buddy Program
Assisting in craft classes, programs or events
Testimonials
"It's the best thing we do!"
~  John and Cindy K.
"Volunteering is a joy to me, because it allows me to meet new people and help others in need."
~ Barbara W.
"I enjoy being a volunteer because of the joy it brings to our elders; they are so happy to see me!"
~ -Linda S.
"Volunteering means providing service to my community and enhancing the quality of life of its members.  In return, I make lasting friendships and receive a personal sense of well-being."
~ Celia S.