Currituck Citizens Academy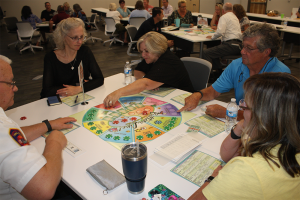 *At this time, the class is full for the 2023 Citizens Academy and we are no long accepting registration. Thank you for your interest, and please check back for future Academy dates.
The Citizens Academy provides an opportunity for Currituck County residents to learn about local government, offering a closer look at the functions of various departments and management of the county.
Each class session will focus on specific departments or topics and will be held in county facilities. The Citizens Academy is free of charge for all participants.
2023 Class Schedule: All classes are held on a Thursday, from 6:00 – 8:15 pm.
February 2 – Organization, Boards, and Staffing; meet @ the Historic Courthouse
February 9 – Facilities and Financial Management; meet @ the Public Safety Center
February 16 – Development Services; meet @ the Public Safety Center
February 23 – No class
March 2 – Tax, GIS, and Register of Deeds; meet @ the Currituck Judicial Center
March 9 – Senior Services and Parks & Recreation; meet @ the Currituck Senior Center
March 16 – Social Services and Sheriff's Office; meet @ the Public Safety Center
March 23 – Emergency Management and Fire-Emergency Medical Services; meet @ the Public Safety Center
March 30 – No class
April 6 – Cooperative Extension and Animal Shelter; meet first at Extension, then visit the Animal Shelter
April 13 – Tourism and Airport; meet @ Currituck Regional Airport
April 20 – Water; meet @ Mainland Water Plant
April 27 – Conclusion: "Budgetopolis" final activity and Academy participants' recognition; meet @ the Public Safety Center