Tips for hurricane season preparedness
The Atlantic Ocean hurricane season is underway. Currituck Emergency Management encourages all citizens to remain prepared in case a severe storm comes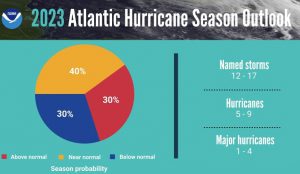 towards the county. Key reminders include:
Prepare an emergency safety kit and hurricane plan for your family.
Include a 3 day supply of food, water, clothes, flashlights, batteries, cell phone chargers, medicines, first aid kit, and other necessities.
Check the expiration dates on all supplies and medicines.
Check your homeowner's insurance policy for any changes you may need.
Talk to your family about hurricanes and your emergency safety plan.
Consider any special medical needs for your family and include those in your plan.
Remember to include your pets in your emergency plan. The Currituck Animal Shelter does not take in pets during a storm.
Make a checklist of tasks you'll need to prepare your home and property before a storm.
If you have a generator, stock your fuel supply before the storm and keep it in a safe place.
Visit ReadyNC.gov for helpful suggestions and checklists.
Develop an evacuation plan.
There are NO pre-storm shelters in Currituck County. Listen to local radio stations or watch the county website www.currituckgovernment.com for out-of-county shelters that will host Currituck County evacuees.
Take your Currituck County Access permit when you evacuate. This will serve as your re-entry pass after the storm.
Discuss your evacuation plan with your family.
Fuel your vehicle ahead of time, along with general preventative maintenance (check fluids, air pressure in tires, etc.).
Make sure you have everything needed to change a flat tire.
Have current maps or GPS devices with you in case traffic is unexpectedly rerouted.
Take a cell phone charger for your vehicle, first aid kit, and important documents (birth certificates, passports, deeds, etc.).
Pack enough water and snacks for everyone.
Remember to take your pets and pet food.
Listen for evacuation notifications and leave as early as possible to avoid the heaviest traffic volume.
Stay informed throughout hurricane season.
Monitor www.weather.gov for the latest news on storms in the Atlantic Ocean.
Sign up for Currituck Alert to receive timely alert messages from Currituck County.
Text SAFECOROLLA to 888-777 for Currituck County beach information.
Call Currituck Emergency Management at 252-232-2115 if you have any questions about hurricane preparedness or evacuations.