Flood Safety
Floods can happen anytime, anywhere.  Make sure you are prepared!
Before the Flood
Have a flood evacuation plan in place before flooding occurs
Know your evacuation route (PDF)
Currituck County does NOT operate pre-storm shelters
Prepare an emergency kit
Make an inventory of your home's contents with photos and/or video
Sign up for Currituck Alert, Currituck County's mass notification system
Follow evacuation orders
Lock all doors and windows before leaving your home
Turn off the electricity at the main breaker as needed
Unplug appliances
Turn off gas at the outside source if you know how
Secure outdoor items
Take important documents
During the Flood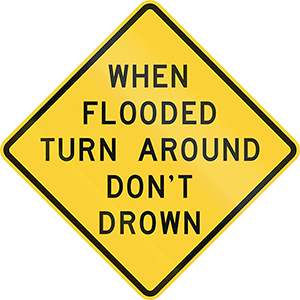 Turn Around, Don't Drown!
DO NOT
through flood waters.
Just 6 inches of moving water can knock you down, and 1 foot of moving water can sweep your vehicle away. Stay off of bridges over fast-moving water. Flood waters may be deep or contaminated.
If trapped in a building, then go to its highest level. Do not climb into a closed attic. You may become trapped by rising floodwater. Go on the roof only if necessary. Once there, signal for help.
After the Flood
Return home only when authorities say it is safe
Avoid wading in floodwater. Floodwater can contain dangerous debris and be contaminated. Underground or downed power lines can also electrically charge the water.
Photograph damage to your property
Contact your insurance agent
Throw out any food, including canned items, that was not maintained at a proper temperature or has been exposed to floodwaters.  Do not eat food from a flooded garden.  When in doubt, throw it out
Wear heavy gloves and boots during clean up
Follow 5 basic steps:
 Air Out
 Move Out
 Tear Out
 Clean Out
 Dry Out
Seek out professional services and/or guidance before attempting to repair flood-damaged property.