Advertisement for Bids
Multi-Use Path Corolla Greenway Phase V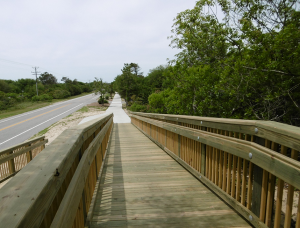 RE-BID: Sealed bids for the Currituck County Multi-Use Path Corolla Greenway Phase V project will be received by Currituck County until 11:00 a.m. on Monday, February 4, 2019, at the:
Historic Currituck County Courthouse
153 Courthouse Road, Suite 204
Currituck, North Carolina 27929
and then publicly opened and read. The scope of work for this project will include the construction of the Currituck County Corolla Multi-Use Path Greenway Phase V located in Corolla, North Carolina
Sealed bids may also be mailed to:
Eileen M. Wirth, Project Coordinator
Currituck County
153 Courthouse Road, Suite 204
Currituck, North Carolina 27929.
It is the bidder's responsibility however, to make sure that the bid is received at the bid opening location.
The Contract Documents, Contract Drawings and Specifications will be available on Monday, January 28, 2019 and may be reviewed at the following location.
Coastal Engineering & Surveying, Inc.
4425 North Croatan Highway
Kitty Hawk, North Carolina 27949
Copies of the Contract Documents and Drawings may be obtained at the office of:
Coastal Engineering & Surveying, Inc.
4425 N. Croatan Highway
Kitty Hawk, North Carolina 27949.
Printed copies will be provided for a non-refundable fee of $250.00 and shall be ordered a minimum of 24 hours prior to pick up by calling 252-261-4151. Individuals or firms requesting Contract Documents and Drawings shall supply the following information:
Company name
Contact person
Email address
Street address
Phone Number
Fax Numbers for bidding office;
North Carolina contractor's license with limitation and classification; indicate if the firm will be a Bidder, Supplier or Subcontractor.
Each bid must be accompanied by cash or a certified check, drawn on a bank or trust company authorized to do business in North Carolina, payable to Currituck County in an amount at least equal to five percent (5%) of the total amount of the bid, as a guarantee that a contract will be entered into. In lieu of cash or a certified check, the Bidder may submit a bid bond in the form prescribed in G.S. 143-129 as amended by Chapter 1104 of the Public Laws of 1951.
Contractors are notified that North Carolina G.S. 87 relating to licensing of contactors will be observed in receiving bids and awarding contacts. General Contractor shall be a qualified and properly registered Highway Contractor.
There WlLL be a mandatory pre-bid conference for all past and present bidders for this project on Wednesday,  January 30, 2019 at 11:00 a.m. at the:
Currituck County Satellite Office
1123 Ocean Trail
Corolla,  North Corolla 27927
All bidders must attend including those that attended the prior pre-bid conference held, January 8, 2019.
Small Business Entities, Women Owned Businesses and Minority Owned Businesses are encouraged to submit bids.
The Owner reserves the right to waive any informalities or to reject any or all bids, and to award contract which, in which the opinion of the Owner, appear to be in its best interest. The right is reserved to hold all bids for a period of sixty (60) days from the date they are opened.
The County of Currituck is an equal opportunity employer and service provider.
The major items of work include:
2,250 LF 10 ft. wide concrete multi-use path
2,049 LF 6 ft. wide concrete multi-use path (Temporary)
364 LF 5 ft. wide concrete multi-use path
Documents