Currituck Community Park Signage project in Barco, North Carolina accepted bids until 4:00 p.m. on Tuesday, August 20, 2013 at the: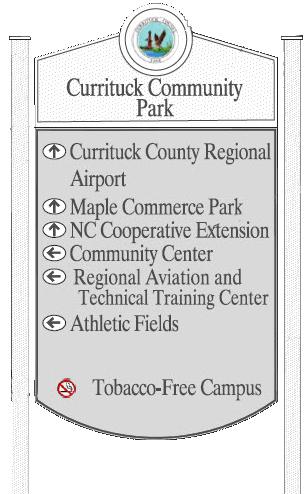 Currituck County Engineer's Office
Currituck County Courthouse
153 Courthouse Road, Suite 302
Currituck, North Carolina   27929
A pre-bid conference was held at the Currituck Cooperative Extension Center on Tuesday, August 6, 2013 at 2:00 p.m.
The project includes constructing 2 (two) entrance signs (1 includes a digital message board) with masonry walls, lighting and landscaping; building and facility identification signage; and directional signs throughout Currituck Community Park in Barco, North Carolina.
Obtain plans from or direct questions to:
Michelle Perry
Phone: 252-232-6034
This was an informal bid. The bids will be evaluated and contract will be awarded in accordance with the statutory requirements. All bidders must meet the licensing requirements under Chapter 87 of the N.C. General Statues. Small Business Entities, Women Owned Businesses and Minority Owned Businesses are encouraged to submit bids.
The County reserves the right to reject any and all bids and to accept such bids as appears in its judgment to be in the best interest of the County. The County reserves the right to waive any informality.
Documents