Sound Park Boat Ramp Closed for Waterfront Repairs Until
Monday, July 31, 2023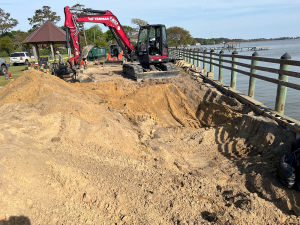 The waterfront at Sound Park is undergoing a major repair project, including the boat ramp area. Due to this project, the entire waterfront boat access  will be closed off to public use until approximately Monday,  July 31, 2023.
We apologize for this temporary closure, but the repairs are very necessary and will greatly improve this facility for future use by the public. During this timeframe, please do not use these areas and be cautious near the construction zone.
All other areas of the park will remain open.
Sound Park is located at:
8955 Caratoke Highway
Point Harbor, North Carolina  27964.
If you have any questions, contact the Parks and Recreation Department at 252-232-3007.