9-1-1 Communication
has a new
Non-Emergency Phone Number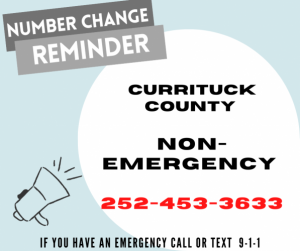 Currituck County 9-1-1 Communications would like to remind everyone that the NON-EMERGENCY number has changed.
252-453-3633 is the new NON-EMERGENCY number for Currituck County. This non-emergency number is staffed 24/7.
If you have an EMERGENCY, please call 9-1-1 if you can or text 9-1-1 if you can't.
Please visit Communications for more information or contact Currituck County Communications at the new NON-EMERGENCY phone number above.