Senior Center Adapts During Pandemic
Although Currituck County's three Senior Center locations have been closed for many months due to the COVID-19 pandemic, staff has found ways to reach out and provide some services for our local senior citizens.  The elderly population is the highest-risk age category in regards to health effects from the COVID-19 coronavirus.  Currituck County closed all senior centers on March 17, at the beginning of the COVID-19 outbreak in the United States, for the safety of the senior center patrons and staff.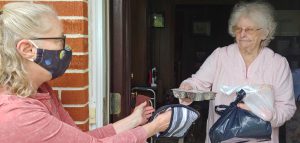 Since that time, the Senior Center staff have made it a priority to stay in touch with seniors and find ways to meet their needs. A large part of providing services includes the home delivery of meals. County staff delivers approximately 300 meals each week to more than 60 elderly residents throughout Currituck County. In addition to meals, staff has also delivered a variety of other goods. These include 120 bags of donated toiletries and personal care items, 110 bags of fresh fruits and vegetables, puzzle and coloring books, and monthly deliveries of pet food. Many of these donated goods have been secured through Currituck County's partnership with the Albemarle Commission.
County staff of the Senior Center makes weekly phone calls to senior citizens to check on their health and see if they have any special needs.  The Senior Center regularly publishes a virtual monthly calendar to help citizens stay informed on upcoming programs or services and news that may be of interest to them. The calendar is also included in a monthly email and paper mailing that is distributed to more than 850 senior citizens. Staff also continues to help seniors in applying for various programs or special offers that become available, such as flea and tick treatments for pets of senior citizens.
Currituck is exploring new ideas to provide services during the upcoming holiday season and is redesigning some of the annual holiday outreach programs, such as Santa for Seniors and the Seniors Food Basket Drive. More information on these and other programs will be available soon.
If you know a senior citizen in need of services or wish to learn more about available services, please contact the Currituck Senior Center at 252-232-3505.
PHOTO:  Mari Mann, site manager of the Knotts Island Senior Center, delivers a hot lunch and a bag of fresh fruit and vegetables to a local senior citizen.