Matusko first from Currituck to lead Clerk's Conference
The Conference of Clerks of Superior Court in North Carolina has existed for more than 100 years and, for the first time, a clerk from Currituck County serves as its President. Ray Matusko, Clerk of Superior Court, was sworn in as the Conference's new President during a Sept. 23 ceremony in Beaufort.
When the Conference was originally formed in 1917, it was called the Association of Clerks of Superior Court. The association was renamed in 2006 and consists of the 100 elected Clerks of Superior Court in North Carolina. It works to improve public accessibility to courts and serves as a resource for clerks through training, legislative updates, and court administration.
Matusko's appointment as President culminates a five-year commitment in which he has served one year each as Secretary, Treasurer, 2nd Vice President, and 1st Vice President. He was sworn in by Chief Justice Paul Newby of the North Carolina Supreme Court.
"I am humbled to be selected by my fellow Clerks of Superior Court to lead our Conference," Matusko said. "And I'm very proud to be the first Clerk from Currituck County to serve as President."
Matusko has served as Clerk of Superior Court in Currituck for the past 11 years, having first been elected in 2010. The Clerk's office is responsible for the administrative, clerical, and record-keeping functions of the district and superior court. It has numerous judicial functions, such as matters relating to the probate of wills and the administration of estates. Among other duties, it presides over adoptions and guardianship proceedings, foreclosures, boundary disputes, name changes, and motor vehicle liens.
"I have a fantastic staff of dedicated professionals," said Matusko. "We take great pride in providing exemplary customer service and equal access to courts for the public."
Prior to his election as clerk, Matusko served in the Currituck County Sheriff's Office. Contacts and friendships he's formed over time help him now in his current position and he enjoys an excellent working relationship with the Board of Commissioners. Mike Payment, Chairman of the Board of Commissioners, attended Currituck County High School with Matusko and has known him for many years.
"I couldn't be happier for Ray. He does a lot for this county and is well-respected throughout the state," Payment said.
Commissioner Kevin McCord has also known Matusko for a long time and worked with him in the Sheriff's Office. McCord supported Matusko during his election campaigns for Clerk and, like Payment, expressed pride at Matusko receiving statewide recognition.
"I've known Ray for more than 30 years and he has shown that with hard work, you can do anything," McCord said.
A contingent of Currituck County officials traveled to Beaufort for Matusko's swearing-in ceremony in a strong display of county support. The group included Payment, McCord, Commissioner Owen Etheridge, Sheriff Matt Beickert, and Interim County Manager/County Attorney Ike McRee. In addition, NC Rep. Bobby Hanig, a former Currituck County commissioner, attended the ceremony as well.
"Ray has brought a great deal to Currituck through his service and leadership," Etheridge said. "And he is right there with his staff every day in getting the job done."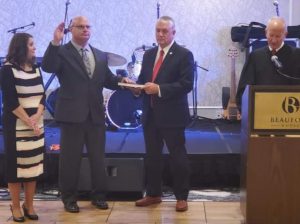 Ray Matusko, accompanied by his wife Lori, is sworn in by NC Chief Justice Paul Newby.
L-R: Ike McRee, Owen Etheridge, Renee Etheridge, Paul Newby, Mike Payment, Ray Matusko, Kevin McCord, Bobby Hanig, and Matt Beickert.
Citizens may find more information on services provided by the Clerk of Superior Court office here.