Kemp settles into leadership role with Development Services
Since joining the county staff in early July, Kevin Kemp has effectively transitioned into his role as Currituck County's Development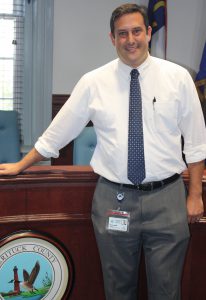 Services Director, a newly-created position that oversees the offices for planning, zoning, code enforcement, permits, and building inspections. As part of a restructuring, the department formerly known as Planning and Community Development is now named the Development Services Department.
For the previous 10 years, Kemp served as the zoning administrator for the City of Virginia Beach. He hold's a Master's Degree in  architecture from the University of Michigan. His family of four have lived in Currituck for the past five years and Kemp and his wife have two daughters, ages 15 and 11.
"My family and I love the Currituck community and we are excited to grow alongside it," Kemp said.
In his new position, Kemp has a wide range of responsibilities. These include managing a large staff, providing technical advice to the Board of Commissioners on all planning matters, developing and recommending policies, coordinating various planning activities with state and federal agencies, implementing county policies, and representing the county in meetings with developers, citizen organizations, and appointed boards. Within the revamped structure of the Development Services Department, Kemp expects the county to provide a high level of services as Currituck continues to grow.
"You will see a new name, but we have the same commitment to solid planning practices and encouraging growth that will benefit the
community. We want to use our department as the catalyst to coordinate with other departments and public agencies to realize a future for the county that is in harmony with our vision," he said.
More information on the Development Services Department is available online or by calling 252-232-3055.